2015 NW Idea House Featuring Products from Windows, Doors & More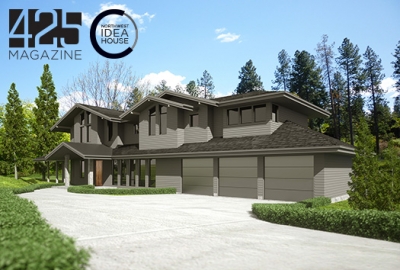 Windows, Door & More is proud to present our products showcased in the 2015 425 Magazine Northwest Idea House along with Lochwood Lozier Custom Homes.  The home is located in Clyde Hill, the first home to be in the 425 area code in over 6 years.
The Idea House is featuring the following windows and door products:
 - Andersen E- Series Windows and Doors LEARN MORE
- Andersen Verilock Technology- Wireless Home Monitoring Sensors LEARN MORE
- La Cantina Bi-Folding Great Room Door LEARN MORE
- Rogue Valley Custom Entry Pivot Door LEARN MORE
During the last two weeks of October, the home will be the center of a variety of social events, parties, open houses, and photo shoots. 
Windows, Doors & More will be hosting an informational luncheon at the home on November 3rd.  For more information, please call or email: 206-782-1011 or marketing@windowshowroom.com
See a full list of products featured in the home at http://www.lochwoodlozier.com/425-magazine-2015-northwest-idea-house/ from local businesses and suppliers.  The home has a unique and eclectic mix of furnishings, décor, and local art, truly one of a kind.
Stay tuned for 425 Magazine to feature the home in the upcoming November/ December issue.
Thank you Lochwood Lozier for choosing Windows, Doors & More to partner with you on such a wonderful home!
Click HERE for the Lochwood Lozier Press Release
------------------------------------------------------------------------------------------------------------------------------------------------------------
Lochwood Lozier Press Release |
June 1, 2015/in 425 Magazine 2015 NW Idea House, News /by Admin
Redmond, WA: Lochwood-Lozier is excited to announce a partnership with Windows, Doors & More for the 2015 Idea House coming this Fall 2015. This inspirational and innovative home will feature Andersen E Series windows with the new VeriLock sensors. Lochwood-Lozier chose the E Series windows because they can be customized to exact specifications, available in custom colors as well as dramatic sizes and shapes which was key for this home.
"The original mid-century Ralph Anderson architect home that we are updating had a vision of being centered around views and light. It was really important to us to allow large expansive windows while at the same time maintaining energy efficiency. The Andersen E Series windows are going to look spectacular." Lisa Staton, Lisa Staton Design
The VeriLock integrated security sensors are the only home security sensors built directly into
your windows and patio doors, making them completely invisible. These patented wireless sensors not only tell you if a window or patio door is open, they also tell you if they're unlocked. No other sensors can do that.
To learn more about Andersen Windows, and to see how Verilock sensors work wirelessly, visit Windows, Doors & More at their conveniently located showroom in the Seattle Design District of the historic Georgetown neighborhood. The 5,000+ square foot showroom is an ideal spot to discover, be inspired, and select windows and doors tailor- made by the industry's leading manufactures. WD&M has been a Northwest source for quality, excellence, and leading products since 1993.
About the 2015 NW Idea House: 425 Magazine is collaborating with Lochwood-Lozier on the 10th annual Northwest Idea house for 2015! This Idea House located in prestigious Clyde Hill will bring to market inspirational and visionary ideas in a home to be completed in Fall 2015. The Idea house was originally designed by Northwest iconic architect Ralph Anderson. The extensive remodel and addition will preserve with his style of broad windows and exposed frames to take advantage of views and of course the cool mix of vintage and modern elements. The property feels like a sanctuary, very unique with a private drive, bright sunny filled lot overlooking Overlake Country Club Golf Course. Follow Lochwood-Lozier on Instagram as we chronicle the building of the home: https://instagram.com/lochwood_lozier/
Andersen Windows E-Series – http://www.andersenwindows.com/products/series/e-series
Andersen VeriLock Sensors – http://www.andersenwindows.com/verilock
Windows, Doors & More – http://windowshowroom.com
Lisa Staton Design – http://www.lisastaton.com/
* All Images Courtesy of Lochwood Lozier Custom Homes