Albertini Italian Windows & Doors- Now Available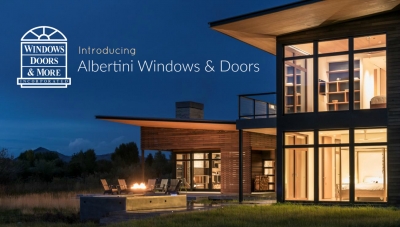 We are pleased to offer Albertini Italian Windows and Doors.  The quality, craftsmanship, and originality of the Albertini materials are truly remarkable.
The depths and capabilities of Albertini are vast, and highly custom.  The protocols of manufacturing and engineering are unique to their brand and history, since 1954. 
Here are just a few of the ways that Albertini stands out, and creates windows and doors in their own way:
Clad exterior products with wood interiors.  The cladding is held on by a series of clips and fasteners.
No nail flange applications.  Frames are built in to a wall system, to accommodate today's varying custom siding and wall condition practices.
Modernized sliding system known as APEX FINE that creates window and door walls with expansive glass, with structural support bridging dimensions as small as 3/4 of an inch wide.
Factory representatives will be in Seattle the week of July 12th, as we host a Lunch & Learn event at the showroom, for a hands on demonstration and learning opportunity.
If you would like to learn more about how Albertini could work for your project, prior to July, please contact us for detailed information.
Until then, we look forward to seeing you this summer.