Springtime Home Remodeling & Replacing Windows and Doors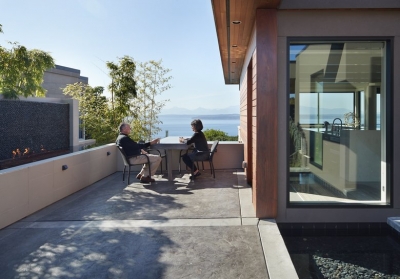 The springtime remodeling buzz has officially hit. Are you feeling it too? If a home remodel is on your horizon, that very well may include replacing or restructuring your window and door openings. New doors and windows can make a huge difference in the 'before and after' effect for your home!
At Windows, Doors & More we understand that many homes in our area have spectacular water views. Our goal is to work with you to maximize those views we all know and love so much.
To see for yourself, just check out this inspirational Innis Arden home remodeled by our good friends at Rainier Custom Homes.
When the homeowners decided to remodel rather than rebuild their circa-1946 abode designed by Paul H. Kirk architecture — with Rainier Custom Homes, architect Darrin Petersen (Bjorn & Poulsen Fine Home Design) and interior designer Beverly Bradshaw — the team looked to Windows, Doors & More for guidance on the large windows, skylights, and doors, all of which are a prominent aspects of the original design. 
(Stacking 6 Panel oversized Fleetwood sliding doors open west onto the balcony.)
Much of the original home's design is still reflected in the updated façade. The lines of the windows and doors stayed very similar, only becoming more functional and efficient with glass chosen to control ambient air temperatures. Combined with interior motorized shading systems to control the light and heat that reflects from the water, the home now stays cooler in the summer, and warmer in the winter.
The home's sound facing elevation utilizes walls of doors, rather than a combination of doors and windows, which would decrease glass coverage, and add in visual separations where they were simply not needed. Thus, maximizing the view, and simplifying the overall aesthetic. 
Goodbye to the old stationary, and sweaty windows of days gone by. Hello to new, sleek, and highly functional nook sliding windows.
Guests are greeted by an entry alcove that frames the view with picture windows stretching from your first step in the front gate, all the way out to the water.
Floor to ceiling windows add drama, flair, and a sense of 'living with nature' when positioned in just the right places.
Black anodized aluminum window and door frames add to the contemporary and modern design of the home. Strong and functional, while complimenting the home's design intention.
Not to be overlooked are the added custom skylights to increase light and add interest at just the right places in the home. To coordinate with the windows and doors, matching skylight frames are constructed of the same aluminum bronze anodized material. Bringing fluidity and balance to the home's décor.
A special thank you to all involved in restoring this special PNW Home, and for working with Windows, Doors & More.
---
Photography by NW Architectural Photography
Windows & Doors By Fleetwood USA
Custom Skylights by Crystalite
For more detailed information on products used in this home, please contact us.