Summer Giving with Sawhorse Revolution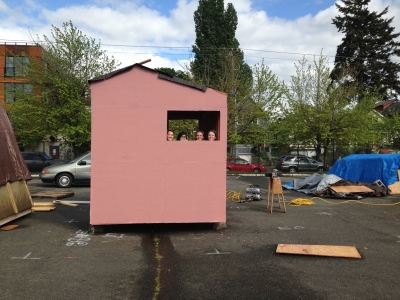 In addition to the winter/holiday season of giving, spring and summer are also a great times to give back to the community.  In the spirit of contribution, we continually look to partner with related charitable organizations year round.  
The latest group we have contributed to is Sawhorse Revolution. As a non-profit organization, the mission of Sawhorse Revolution officially is:
"To foster confident, community-oriented youth through the power of carpentry and craft."
"Sawhorse Revolution works with high school students of diverse backgrounds from Seattle and surrounding areas. Under the tutelage of mentors, professional builders, architects and cross-disciplinary educators we offer our students a widely applicable skill set, opportunities for character development and confidence in their abilities to engage and improve their communities."
What makes Sawhorse Revolution really stand out is the tidal wave of influence and effect that results upon a project's completion.
The projects range in scope and size, but the three main elements remain in flow throughout all of the missions. 
First and foremost, Sawhorse works to empower and educate Pacific Northwest youth to learn skilled trades, such as carpentry and architecture, and teaches them to be resourceful and conscientious members of society.
Then, these students work with the area's top leaders and volunteers that specialize in architecture, carpentry and engineering who partner with Sawhorse Revolution to aid in the development of community centered projects.
The projects that result from these collaborative efforts range from city park art installations, to broader planning builds.
Here is a snippet from SR's website regarding their mission and methods.
"Sawhorse Revolution hosts programs that engage teens and community members on inspiring building projects, creating a dynamic, exciting, culturally-savvy classroom for diverse populations.  By connecting these fun, team-oriented environments with progressive educational principles (e.g., game-ification, project-based learning, restorative practices, etc.), we effectively create supportive, hands-on learning laboratories in which students discover the potential of their surroundings and their passions.

Throughout the year, high school youth team with professional builders and dedicated mentors to create beautiful structures that support nonprofits and community groups in local neighborhoods.  Most programs offer 40-60 hours of direct building time, equivalent to a college level course, and are offered to students either for free or on a sliding-scale."
One of their more recent collaborations was the "EASE.L.HOUSE" project  This is where Windows, Doors & More donated materials to be installed in temporary housing designed and built by the students of SR.
We are proud to partner with such a wonderful organization, even if our part is simply to add windows and doors to a larger scope.
Thank you Sawhorse Revolution!
To learn more or donate to the Sawhorse Revolution Mission go to: www.sawhorserevolution.org or www.facebook.com/SawhorseRevolution/