"The LaCantina Life" Doors for the Ultimate Indoor/Outdoor Spaces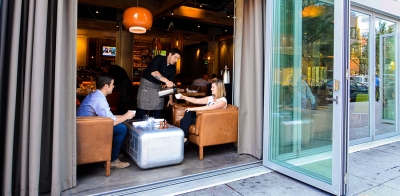 Over the past few years, we have seen a surge of homes being designed and built to incorporate a sense of connection and passage to the spaces surrounding them.  Our customers want to soak in their beautiful Northwest views, and feel the freedom of unencumbered walls or static windows.
La Cantina Doors, out of Oceanside California, delivers on that sense of wonder. 
With the options and designs that La Cantina offers, you can design your custom door to suit your exact home or business style.  Add a pop of color with custom aluminum finishes, or choose the Contemporary Clad line for thin, sleek frames, and let the view and the surrounding be the pop. 
Why choose LaCantina Doors?
Quite simply, LaCantina Doors OPEN SPACES. By eliminating walls and removing the distinction between the indoors and outdoors, LaCantina Doors transform your space, creating an environment of outdoor living. With innovative designs, LaCantina Doors products are preferred by designers and homeowners for their quality, clean lines and narrow door profiles that maximize your view as a glass wall when closed.
Here are some Frequently Asked Questions that you will definitely want to consider if you are working with La Cantina Doors:
What type of structural support is required for LaCantina Folding Systems?
LaCantina Folding Systems are top hung and provide superior operating performance. It is very important that the LaCantina Doors' frame be secured to an adequate header that does not deflect down when the doors are installed or if there is any settling in the structure.
The structural support required and header size depends on both the weight of the doors and also surrounding structural conditions. The maximum deflection of the header with the live load shall not exceed the lesser of L/720 of the span and 1/4". Structural support for lateral loads (both wind load and when the panels are stacked open) must be provided.
For example, door panels 36" wide and 96" tall typically weigh approximately 110lbs each. We generally see engineered or steel beams used as headers. Please consult with your designer, structural engineer or contractor.
Are LaCantina Doors weather tested?
La Cantina has performed weather testing on all their doors at independent test facilities. Air, water and structural performance results achieved mean LaCantina Doors can be specified for use in most areas.  Important factors to consider include building code requirements, project location, the type of building , etc. Please refer to their test results and consult with your architect or engineer.
What sizes can LaCantina Doors be? Can you do custom sizes?
La Cantina offers "made to measure" door systems to fit any opening. Large openings up to 52 feet wide with 8 doors opening in each direction are possible. Door panels can be up to 39" wide and 10'0" tall, without the need for horizontal mullions that detract from your view. They specialize in combining two systems for post-less or "zero post" corner applications. Larger sizes and other custom options including a Window Door Combo are available upon request.
Contemporary Clad Video
http://www.lacantinadoors.com/why-lacantina/video/contemporary-clad

Which La Cantina Door is right for me? Comparison chart (Insert HERE)
http://www.lacantinadoors.com/uploads/pdf/LaCantina_Doors_Product_Comparison_Chart.pdf
* Photos, videos, and FAQ's courtesy of La Cantina Doors