Windows & Doors for the Holidays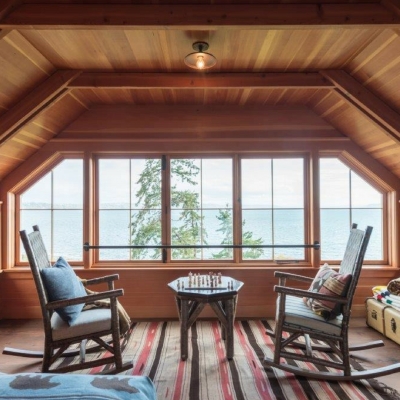 This month's home feature is truly a gem. A Bainbridge Island getaway with a great history tied to strong family values. The result of a true restoration, this project reminds us all what it means to be home for the holidays. Windows, Doors & More was pleased to partner again with the teams at Hoedemaker Pfeiffer Architects and Schultz Miller Construction to find just the right brand to accomplish their goals. This home incorporates functional and nostalgic windows and doors that in turn carry out the traditions this home is known for.
---
Loewen Doors & Windows turned out to fit the bill perfectly. The use of Douglas Fir interior wood and all weather aluminum cladding was the ideal blend of function and aesthetics. Loewen Windows is also known for building products with a strong sense of history and family values. Just another reason the products paired naturally with this particular project.
Oversized Loewen Terrace Doors were designed to complete the styling of a 'carriage house' look on the guest cottage. However, the doors still function as a typical 'French' style door.
Additional clad brickmould was used to complete the exterior look and tie into to a low/no maintenance finish.
To read more about this home's history CLICK HERE for a great feature in The Seattle Times Online. Thank you to everyone involved in this great project!
---
To learn more about the architectural and design services of Hoedemaker Pfeiffer visit them in Seattle (not far from the Windows, Doors & More Showroom) or go to www.hoedemakerpfeiffer.com
To see more custom homes built by the folks over at Schultz Miller Construction go to www.schultzmiller.com
Architectural Photography by Andrew Giammarcho at www.andrewgiammarco.com